Cudy to Participate Exhibitions in Hong Kong, Dubai, and Shenzhen in this October
Shenzhen, China – Cudy is excited to announce its participation in three major exhibitions taking place in Hong Kong, Dubai, and Shenzhen in October 2023.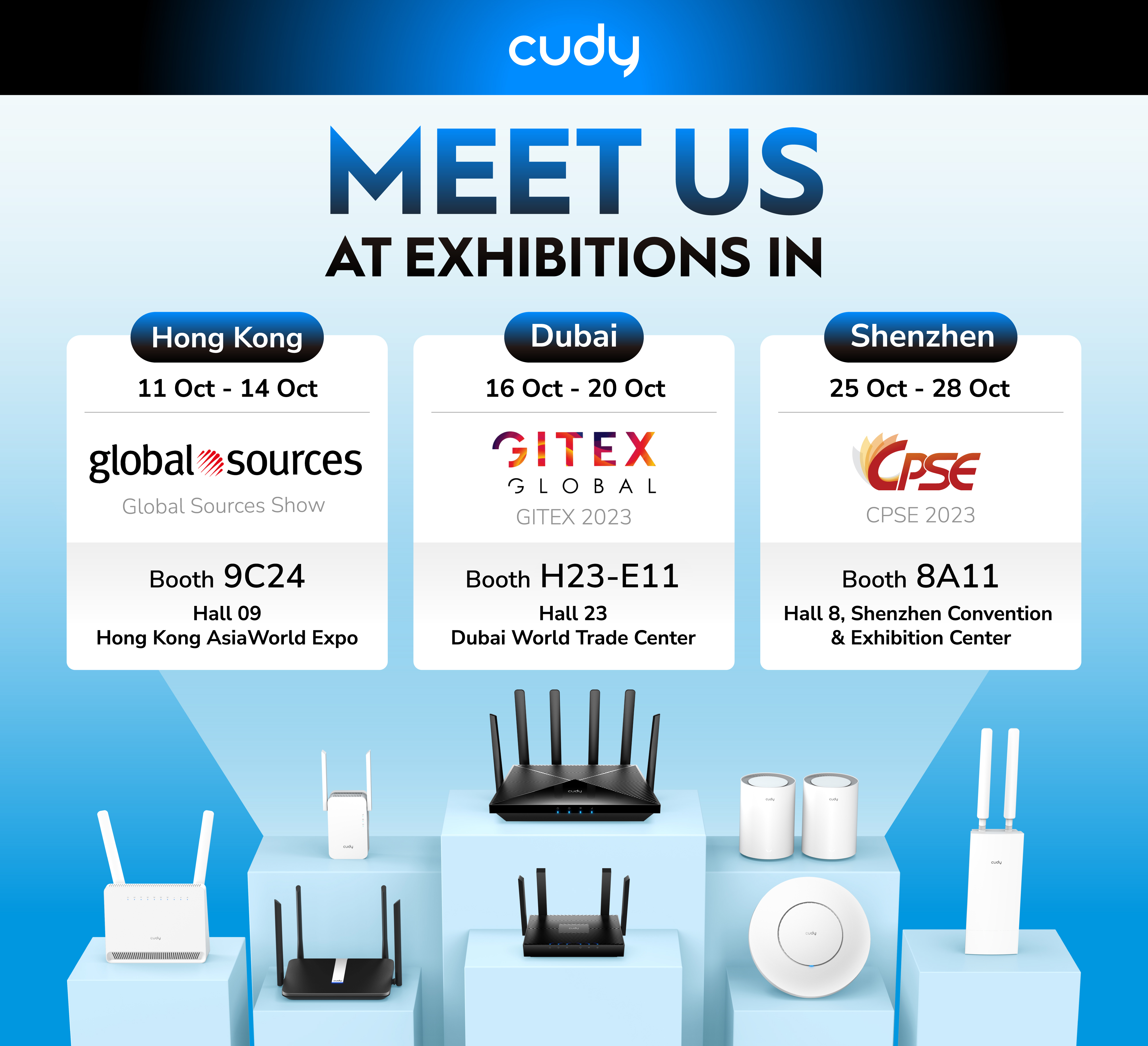 Three exhibitions are—
| | | |
| --- | --- | --- |
| Booth Numbers | Exhibitions | Dates |
| 9C24 | Hong Kong Global Sources Show | 11 Oct - 14 Oct |
| H23-E11 | GITEX 2023 | 16 Oct - 20 Oct |
| 8A11 | CPSE 2023 | 25 Oct - 28 Oct |
You are welcome to fill in this registry form to share your plan of visit and favored products so we can better arrange the meeting time and products.
During these events, Cudy's team of experts will be available to answer questions about company products. The highligt products involve both the popular and latest offerings from Cudy, including AX3000 and AX1500 Wi-Fi 6 routers, 4G/5G routers, new xPON products, docking stations, AXE5400 Wi-Fi adapter, AP with 2.5G port, mesh Wi-Fi systems, repeaters, and PoE switches.
About Cudy
Founded in 2018 and headquartered in Shenzhen, Cudy is a highly competitive tech-driven company in the R&D and manufacturing of wireless and networking products. The product portfolio covers Wi-Fi Mesh Routers, OpenWRT Routers, Repeaters, 4/5G CPE Routers, PoE, Switches, and Smart Home IoT Devices.
Register now: Guest Registry Form
PR contact: pr@cudy.com
LinkedIn: https://www.linkedin.com/company/cudytech/
Facebook: https://www.facebook.com/people/Cudy/100089708302205/